Orangutan Caring Week
Worldwide- Every November


Orangutan Caring Week is a worldwide event held annually every November. It began as Orangutan Awareness Week but it soon became apparent that just being aware of orangutans was not enough. We need to care...and care enough to be moved to action to save these incredible red-haired apes and their rainforest homes.

We want you to participate in this worldwide event. Help build a "critical mass of concerned voices" each November to focus attention on the species through your efforts and those of other supporters. Individuals, students, conservation groups and zoos all over the world continue to participate each year and we are hoping to have even more participate this year!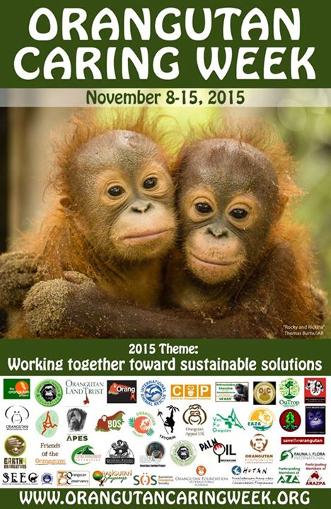 THEME FOR 2015:
"Working together toward sustainable solutions."
Working together to find sustainable solutions that maintain the long-term survival of the rainforests, and all creatures with in it.

We need to express our concern and create positive change through activities and initiatives that go beyond mere talk. For some people, learning about the issues for the first time may require discussion and discourse. However, for many people who have been hearing about this species' plight for survival, talk may not be enough...
Action is needed to save the orangutan, and their rainforest home.
WHAT YOU CAN DO:
Orangutan Caring Week is a great time to help people and students learn about the wonderful world of orangutans and their rainforest habitat as well as to encourage them to care enough to move to action so that they might be saved.
What can you do to show you care? Plenty! First of all commit to doing at least one activity. Whatever you choose to do make it fun, make it understandable but most of all make sure that it reaches out and motivates people to want to do something about the potential loss of one of our planets most beautiful species: the orangutan.
Visit
www.OrangutanCaringWeek.org
for more information and ideas on how you can become involved.
A history of Orangutan Caring Week:
http://tinyurl.com/lgje5k9
For more event ideas and downloads:
http://orangaware.org/